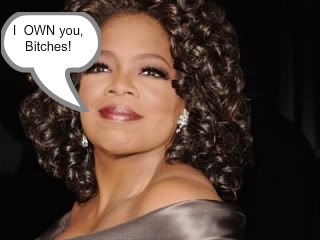 So the Queen of Daytime, nighttime and pretty much anytime, Oprah is leaving her coveted talk show spot and starting her OWN network (seriously, c'mon Oprah, it's not like we don't know you by now bitch.. so we certainly don't need more of your monikers- HARPO -Oprah backwards and now OWN-  Oprah Winfrey Network).
Well, she needed to take a good hard look at those who will serve as her network army. Rosie O'Donnell certainly could be considered a loose cannon in this tour de force Ms. O has cooked up. I mean, once the Queen of Nice…we all remember the Koosh Balls and her weird obsession with Tom Cruise.  (Although, Oprah got the best of Tom and his couch antics!)
Rosie has now bounced back and forth across the crazy threshold a time or two and Oprah has some valid concerns in doing a little psycho testing beforehand. Rosie certainly has a reputation as a tail-ruffler, just check out her tete-a-tetes with that Hasselbeck roach of a woman. Sorry, crazy is as crazy does, so the match up between these two was like watching the Heat Miser go up against his brother Snow Miser, but without song and crazy hair.
"'I know you're here to assess how crazy I am," Rosie said to O. "Basically, yes. I'm doing a crazy check,'" Oprah replied.
Hopefully all checks out and Rosie passes Oprah's questions and physical challenges with flying colors like the rainbow lesbian she is. What is that old saying, "you become who you hang around with". Perhaps OWN really stands for Oprah Wants Nookie.  I mean, isn't Gayle getting her OWN gig too..not like that doesn't come with the territory of being the right hand and fingers to Ms. Oprah. But that is another topic all together!