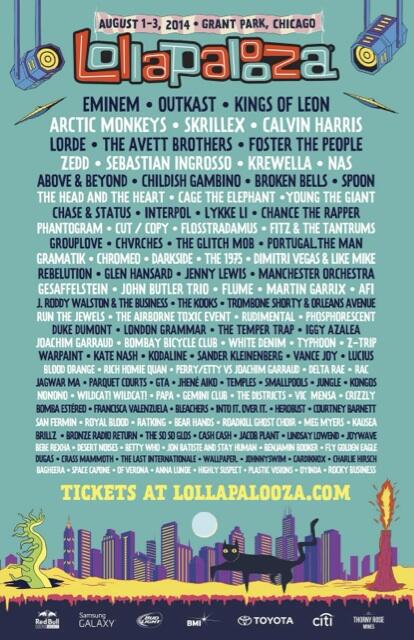 Greg Kot, the music critic for 'The Chicago Tribune' let the cat out of the bag a little early when he revealed the lineup for this year's Lollapalooza fest. Though many shrugged it off, the festival has confirmed that he was right. Headlining this year are Eminem, Kings of Leon, English band Arctic Monkeys and EDM king Skrillex.
Joining them are Outkast, Calvin Harris, Lorde, Nas, Phantogram and tons of other bands that you've probably never heard of. It runs August 1 through the 3 at Grant Park in Chicago. The 3-day and individual-day passes have already sold out, but you can still get your hands on the Platinum passes, and check out the full list of artists who will be performing at Lollapalooza.com. People seemed a bit whelmed by headliners. I mean, Outkast is great and I know everyone can't wait to see them perform again. It'll be nice to see Arctic Monkeys play a big American fest, and there are some other great acts that will hopefully make a great impression. Maybe it's just that there are so many of these things now that they're kind of starting to blend into each other.
So what do you think of this year's lineup–worth going to Chicago for, or will you be watching at home on YouTube with the rest of us?