Have I mentioned how much I love the Twitter ( I will  always say it like Betty White does)? I like seeing what some of my favorite (and not so favorite) politicians, celebrities, reality TV stars, athletes, and musicians have to say.
These are my top 20 tweets from this week: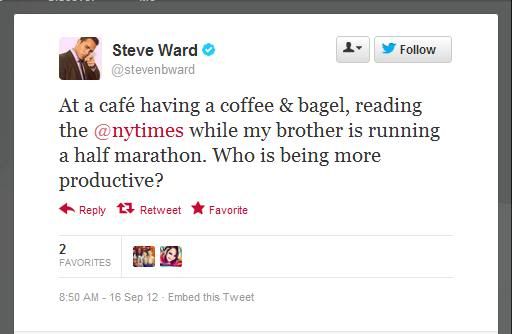 Reality TV-Love Guru Steve Ward tweeted this and, as I am prepping for a Half Marathon for this January, I will beat someone with my running shoes if they tweet or facebook something like that while I'm half-dying. Stick to tweeting about relationship train-wrecks, please.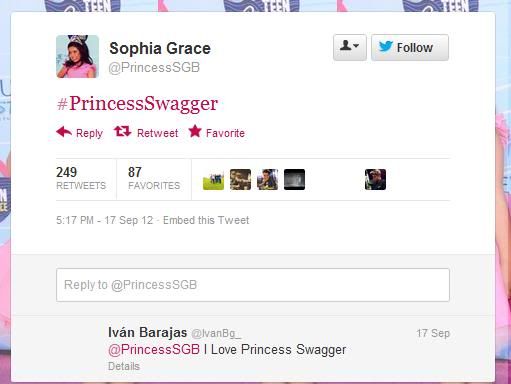 Sophia Grace and Rosie are my queens. If you don't know who they are I need you to understand now that Sophia Grace is a vocal powerhouse, and these two little girls rock a tutu and tiara like NO OTHER. Youtube search their Tea Time with… videos and fall in love with them like all of America (and the world) has. I refuse to believe anyone other than Sophia Grace is running that twitter, I like thinking that each tweet is specially for me.
Modern Family actress Sofia Vergara was not impressed with The Parlor sports bar, I love when stars complain or endorse restaurants, it makes me feel connected to them in some weird way. If I ever find myself in need of a great sports bar in LA I'm sure I'll remember this tweet and not go there . . . because Gloria told me it's the worst.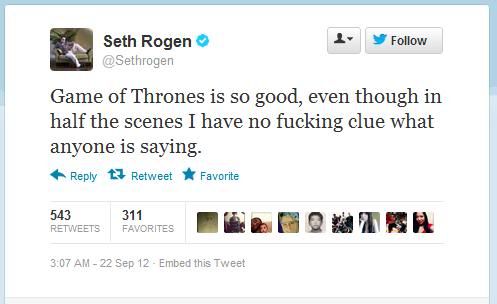 I never thought I'd agree with anything actor Seth Rogen did or said, but his tweet about Game of Thrones expressed my sentiments about my entire viewing experience perfectly.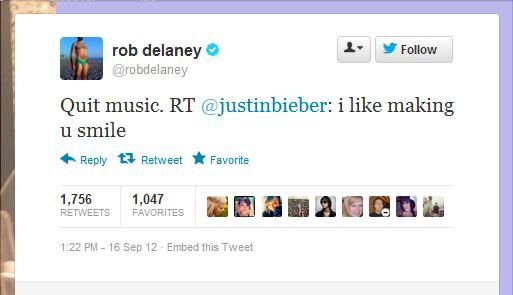 Comedian Rob Delaney isn't for everyone's taste…I've unfollowed him so many times on Twitter because the line don't even exist for him, but so many people retweet him that I find myself lured back into checking what he's commenting on and this time I was glad I did because Justin Bieber annoys me, and I approve this tweet.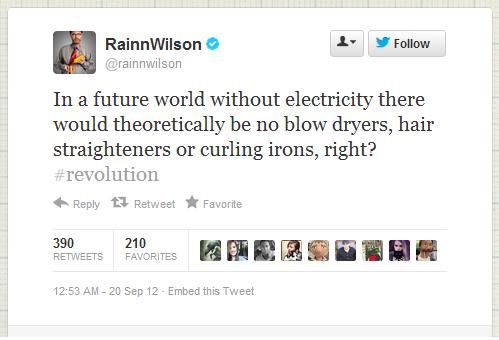 I've yet to see the new NBC drama Revolution mostly because I feel anything post-apocalyptic will give me anxiety and start me off on hoarding spam and artillery, but this show's premise just freaked me out because without electricity I KNOW I won't be looking cute at all! Actor Rainn Wilson expressed my concerns with the pilot episode brilliantly, because…NBC, you're either giving me false hope or just being extremely cruel.
How do I describe Paris Hilton? Actress? Style Icon? Useless? Whichever, I really don't care, I just find this tweet really sweet considering that her avatar and Twitter background are of herself in lingerie- I wonder exactly what she thinks she's telling the world.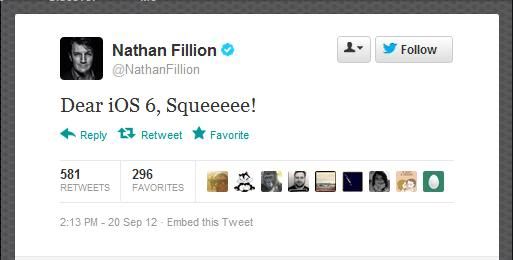 I love actor Nathan Fillion, a lot. Every little thing he does brings a smile to my face, and this simple tweet made me squee as well!

When actress Lindsay Lohan tweeted this on Monday I was grabbing my popcorn and gearing up for the retweets and gold I knew it would bring from all her crazy stans and haters alike. I had to wait until two days later for the real pay out when she was arrested for clipping a pedestrian's knee, which led to Amanda Bynes (who Lohan was referring to in said tweet) to have the final laugh, karma really is a bitch.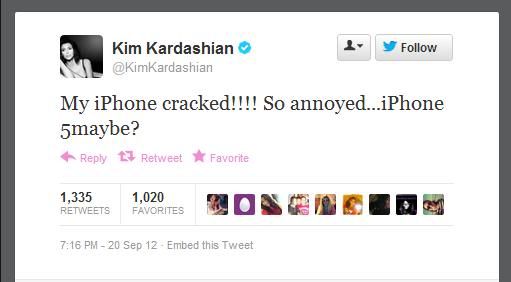 Ugh. I have zero patience for reality 'star' Kim Kardashian, and everything she does annoys the crap out of me- this tweet made me roll my eyes so hard because, really? You knew you were getting yourself the new iPhone so this tweet, like everything else she does, was unnecessary.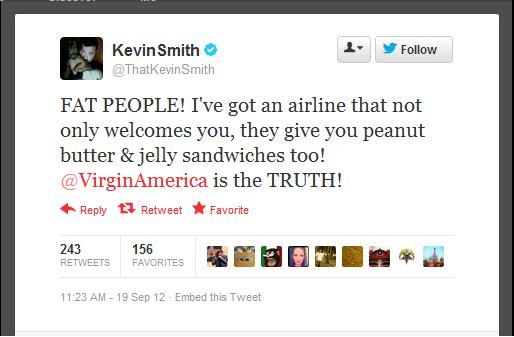 I love Director/Writer/Actor Kevin Smith; he's such a perfect fanboy; he always comes through with giving his audience what they need. This was a wonderful public service announcement, also, peanut butter and jelly sandwiches might be my kryptonite, ohmybob.
Sometimes I find myself scrolling through all of rapper Kanye West's Twitter because I try to understand his insanity, and I always fail. This tweet is only on this list because it gives me another shot at restating that I can't stand Kim Kardashian, and I don't understand this tweet either. First off, if I'm sexting my boyfriend I know good and well he doesn't give a crap about pictures of me in a dress smiling at how pretty I think my reflection is. Secondly, no one likes a braggart but if you're trying to show off your woman at least make sure the pics are somewhat interesting. You're both shallow and annoying, but I like your albums, Kanye, so you can stay.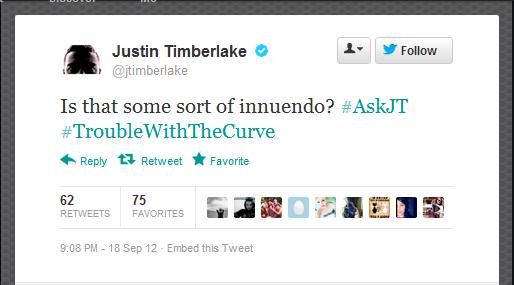 I actually don't like when celebs have upcoming projects because their Twitters become all about promoting, which I understand, but I'd much rather have 'normal' tweets instead of promotional hashtags. However, I'm always pleased by anything that's an innuendo, and to use it to promote your upcoming movie? Well done, Justin. (His movie is out this weekend, someone tell me how much I'll ugly cry so I can be prepared, thanks!)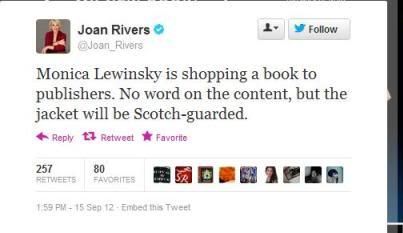 I like when the jokes write themselves, but I love when comedienne Joan Rivers tweets anything.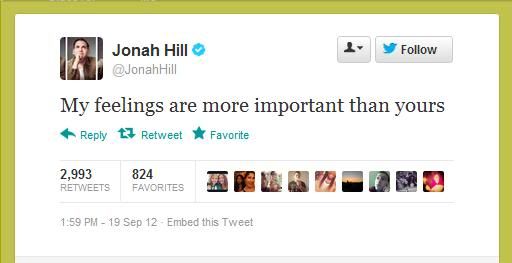 I sincerely hope actor Jonah Hill was quoting The Strokes' lyric, because if he wasn't, I'd like to cordially invite him to bite me.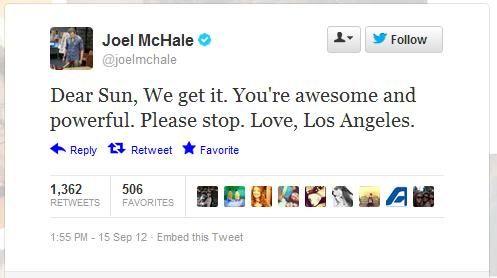 I love tv host/actor Joel McHale for this tweet because everyone over here on the East Coast was tweeting similarly all this week, I felt we were all connected, and I'd like to connect with him…horizontally.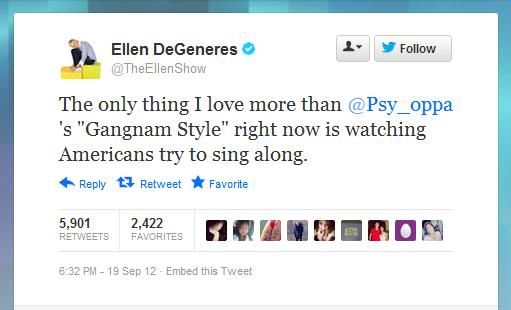 TV Host Ellen Degeneres' tweet was spot on, because I'm one of those idiot Americans currently obsessed with Gangnam Style, never mind that I have zero musical or dance-like talent, I'm all about it.
Me too, Bill Maher, me too. I was genuinely so confused about what was happening those first 3 minutes of The Office's season premiere.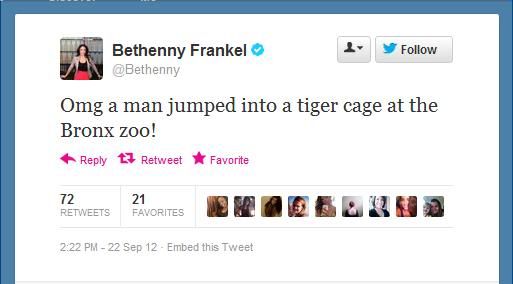 Reality TV star and author Bethenny Frankel's tweet is proof positive that Twitter is a reliable news source, I didn't know this happened until I saw her tweet pop up on my newsfeed!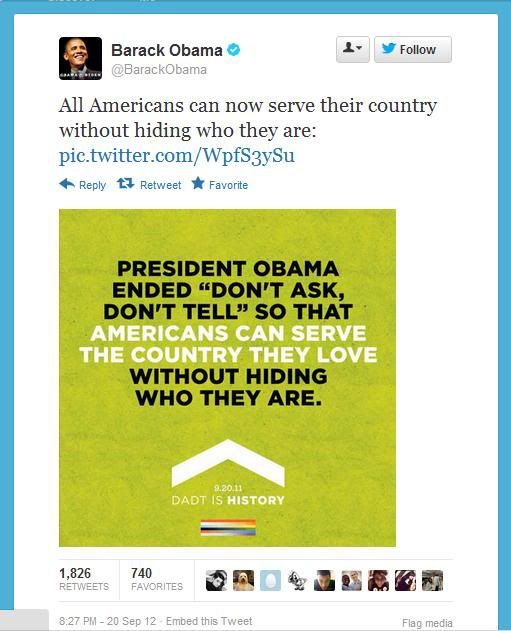 Last, but certainly not least, there were many important politically related tweets this week, but this was the tweet that made me cry. I love our POTUS!
Those were the tweets that entertained me this week, which were your faves not mentioned on here ( I didn't like any of Britney's tweets this week, okay, and of course I follow her!).