Photo: Rolling Stone Magazine
It's been 25 years since the best show about nothing premiered on NBC on July 5 way back in 1989. To make you feel really old, I was only about 4 at the time, but it would be years later with the help of numerous reruns that I would come to appreciate it's genius. Created by Larry David and Jerry Seinfeld, the first season only featured 4 episodes, but thankfully the ratings were just good enough to help it secure a second season. It then went on to become one of the most watched, and quoted shows in television history, with it's series finale attracting a little over 76 million viewers.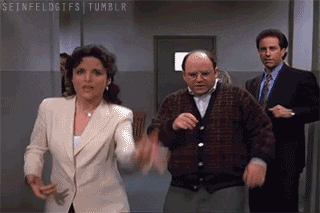 I can see why it took two seasons for the show to catch on with viewers, those first couple of episodes are pretty bad. The situations also felt a little too real, like when Jerry and Elaine decided to see if they could be "friends with benefits." It finally found it's groove in Season 3 with sillier episodes like 'The Subway' and George's whining became more tolerable. "Seinfeld' is a "love it" or "hate it" kind of show, but the mark it left on pop culture is undeniable. Even though you should hate these people, you can help but identify with them.
I've become all too aware of "close talkers" and randomly the other day I thought of the name Eduardo Corocchio (the bullfighter Elaine made up in 'The Good Samaritan'), but couldn't remember where I had heard it. Maybe you've yada yada'd an important detail, or thought about making little versions of your friends while you're in the pasta aisle at the grocery store. 'Seinfeld"s continued popularity is due to the fact that it was about nothing, and yet, everything.
So here are some of our favorite moments and sayings from 'Seinfeld"s 9 seasons.
Elaine's Dancing
We first saw Elaine get turned up at an office party in Season 8's 'The Little Kicks.' The fact that George had never seen her dance before that is a little weird because they had been to numerous parties together, but it was one of her funnier quirks.
Art Vandelay
George's go to pseudonym was Art Vandelay. He used it numerous times to try to get a jobs and even date Marisa Tomei. In 'The Finale,' he realizes that the judge presiding over their case is named Arthur Vandelay and sees that as a good sign. However, after testimony from all the people that they had wronged over the years, the judge throws them in jail.
The Marble Rye
When The Costanzas take offense to The Ross' not putting out the marble rye bread that they bought for dinner, they take it back, leaving their son in a jam. Being the good friend that he is, Jerry mugs and old lady for the last one from a popular deli to replace it. The same old lady would late vote Jerry's parents out of their retirement condo.
The Puffy Shirt
The gang dated a lot of weird people. Near the top of that list was a designer Kramer dated who was a very low talker. Because Jerry couldn't hear her, he ended up agreeing to wear one of her puffy shirts during his appearance on the 'Today' show. "But I don't want to be pirate!"
A Festivus For The Rest Of Us
George's dad Frank created the secular holiday Festivus, which includes the "Airing of Grievances" and then "Feats of Strength." An aluminum pole is a lot cheaper than a Christmas tree, so obviously Frank was on to something.
Some other gems:
"These pretzels are making me thirsty!"
"The sea was angry that day my friends. Like an old man trying to send back soup in a deli!"
"I gotta tell you, I am loving this yada yada thing. I can gloss over my whole life story."
"Serenity now! Serenity now!"
"They're REAL…and they're SPECTACULAR"
"Thaaat's a shame…"
"Look, you don't understand. There was shrinkage!"
"Who's gonna turn down a Junior Mint? It's chocolate, it's peppermint — it's delicious!"
"Look to the cookie!"
"You're an anti-DENTITE!" (Cue photo of hot piece of ass Bryan Cranston as Dr. Tim Whatley.)
"John F. Kennedy, Juuuun-yuh"
"Why would anybody come here if they had a pony? Who leaves a country packed with ponies to come to a non-pony country? It doesn't make sense.. am I wrong?"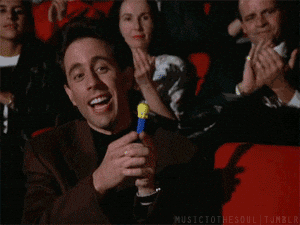 So tell us, what are your favorite 'Seinfeld' episodes and moments?